As I mentioned in
my New Years AJE post
, one of my goals for 2014 is to explore working with polymer clay. I'm not interested in selling polymer clay components, but I think it would be cool for me to be able to design jewelry that includes pendants and beads that I've made myself. I'm really intrigued by the opportunity to create layers of color and texture in my own designs.
A couple of weeks ago I went to IKEA with a friend of mine and found several things that I will be re-purposing for use with polymer clay. My best find was a large set of
cookie cutters
that cost way less ($6) than the cutters that are made especially for polymer clay. Some of the cutters are too large, but most of them will work quite nicely. They come in a great, round, plastic storage box to keep them organized when not in use.
I also got a
silicone baking mat
that I can place on my work surface. The polymer clay won't stick to it and it is easy to clean up. The mat cost $7 at IKEA. A similar mat costs $20 at Target.
The next day I gave it a go. I conditioned the clay and then ran it through the pasta machine again with a piece of plastic netting from the grocery store, (I think it had held onions in the store). It gave the clay a nice texture. Then I cut out an earring pair using the small square cutter from IKEA. I used pan chalks, which look similar to eye shadow, in that the chalk is in little pans and you use an applicator to apply it.
I didn't know if I should apply the colors before or after I cured (baked) the clay, so I tried it both ways. I built up layers of colors on the earring pair, using various shades of blue and purple chalks.
Then I cut out a rectangular and round shape for pendants. I used rubber stamps on these for texture, but I planned to add color to them
after
curing.
I placed all four pieces on a cookie tray, inside the toaster oven and set the oven for 275F for 30 minutes. After 30 minutes, it was still really bendy, so I baked it for another 10 minutes and ended up blackening all four pieces. :(
At first I thought the earring pair might be salvageable. I could see the color layers on them and I liked what I saw. I made them into earrings, but from even a short distance they looked just plain black.
The pendants were even worse! They had started out as sort of an off white color. They emerged from the oven like this:
Not even salvageable! Live and learn. Nevertheless, I could see that the tree and flower designs have good potential if cured correctly.
I did some more reading online and in a few days, I tried again. This time I decided to use the heart shaped cookie cutters from IKEA, since Valentines Day is rapidly approaching. I textured the clay with a stripe and dot rubber stamp and cut out one large heart for a pendant and two smaller hearts for earrings. I built up layers of pink, purple and violet chalk and edged the sides with the darkest purple.
A friend had suggested that I bake my pieces on cardboard, as sort of a buffer to the direct heat. I also read that covering your clay helps prevent browning. So I placed a piece of cardboard on the cookie tray and put the clay on top of that, then I placed an inverted foil loaf pan over the clay and baked it at the same temperature. Perfect! I was ecstatic!
After baking, I used Prisma colored pencils to highlight parts of the hearts and then sealed it.
My first necklace with my own self-made pendant is now listed in
my Etsy shop
. The fact that I made my own pendant is really exciting to me. I can hardly wait to see where this will lead in the months ahead!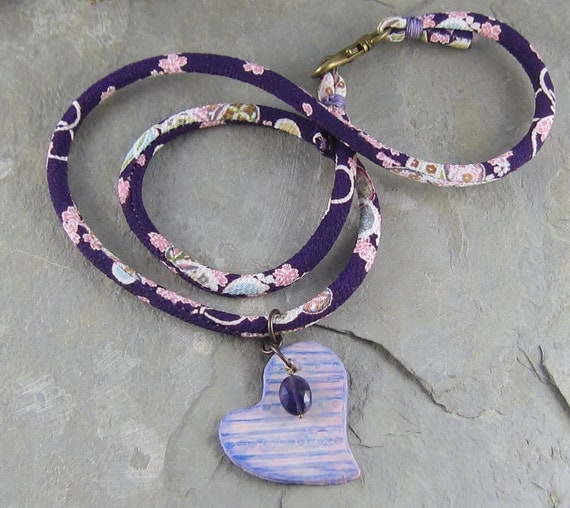 In addition to Art Jewelry Elements, I am now writing for the Earrings Everyday blog. My first post will be on February 12th and I will be sharing the earrings that I designed to go with
this necklace
.
What new techniques are you excited to explore this year?
Linda
Linda Landig Jewelry – ArtFire
Linda Landig Jewelry – Etsy