I received
The Missing Link
by Cindy Wimmer for my birthday recently and I have been happily bending and twisting wire ever since.
Following thorough, well illustrated sections on wire essentials, tools and basic techniques, Cindy presents the 30 links that form the core of her book. The links are divided into 3 levels of difficulty: easy, moderate and more challenging. I would probably place my wire skills at the low end of moderate, but for the purposes of this review, I sampled links at every level. Beyond the links, Cindy and five other well known jewelry designers created 15 jewelry projects that allow you to apply your newly learned skills and which serve as inspiration or launching points for the creation of your own unique designs.
This is a book that you will turn to for years to come. The links vary from fairly easy to quite complex, so as your wire skills grow, you can keep returning to the book when you are ready to reach for the next challenge. The photography is outstanding and the whole book is beautifully designed.
Cindy's links are versatile. Its easy to see many applications for them, as well as to come up with variations on the basic designs. A variation that occurred to me right away was to use Nellie Thomas's
WoolyWire
to accent some of the links. In case you are not familiar with WoolyWire, the website states, "WoolyWire is fiber that has been hand dyed and hand spun onto 24 gauge solid copper wire...It has been permanently felted to keep the fiber on the wire." For this review, I made 3 different links, using WoolyWire for parts of the link and I made one link solely of brass wire.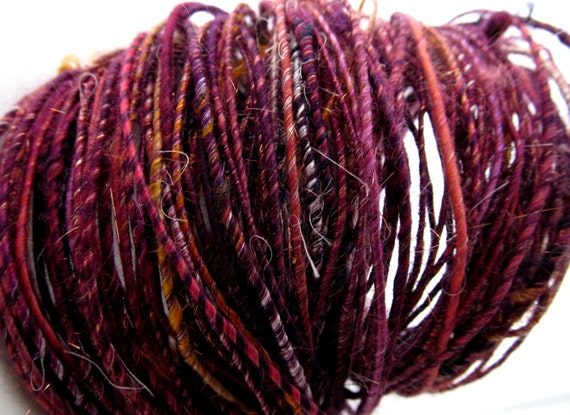 The first link I tried is called "Tangled Triangles", from the easy level. The directions were easy to follow, but like everything worth learning, it took a bit of practice. I formed the three overlapping triangles out of 20 gauge brass, but then instead of doing the over-wrapping in plain metal, I used WoolyWire.
I wasn't quite satisfied with this first attempt, but in doing it, I learned the corners needed sharper bends and I learned how to work more skillfully with the WoolyWire. I tried the link again, this time on a larger scale. I like this one better. The triangle is no longer rounded or wonky and more of the underlying wire structure shows through, beneath the WoolyWire. I'd like to try it one more time, in a size that is between these first two attempts. This link would be awesome in bracelets or necklaces, or on a smaller scale, as connectors in earrings.
I choose the moderate level Snocone link for my next project. I was so delighted with how it turned out that I made a second one and now I have earrings! The swirl "cone" on the top is such a distinctive design element and the WoolyWire adds color and more texture.
(Lampwork headpin by Lori Bergmann.)
After success with the Snocone, I went on to try another moderate level link called the Triple Loop. This is a really fun looking link. I made the link, as directed in the book, then I added an extra wrapping of WoolyWire in the center. I used WoolyWire to make links on the lampwork dragonfly focal, too.
The final link that I made for this review was the Spiral Swirl from the More Challenging level. The Spiral Swirl was a bit of a reach for me and it would not have been attainable without well written directions and clear step by step pictures.
I recently retired from a 33 year career in education, which included supervising student teachers for the University of Washington. One of the make it or break it skills a master teacher must have, is the ability to break down complex tasks into discrete steps, coupled with the ability to explain those steps so clearly that a novice can follow along. This is not as easy as you might think, but Cindy is a master teacher! To me, this is the most impressive aspect of this book.
Spiral Swirl. It looks like the loops are nicked, but I actually used a texture hammer on them.
They look textured in "real life"!

The other thing that master teachers do, is clearly model new skills for their students. Cindy does this through great step by step photos. For a visual learner, like myself, the photos make a crucial difference in attempting some of the more complex links, like the Spiral Swirl. Between the precise directions and the clear photos, it is like having Cindy right there with you, guiding you each step of the way.
I highly recommend this book for novice through skilled wire workers. I look forward to trying all of the links and to further experiments with WoolyWire link accents. I plan to share my progress with you on future AJE posts. Stay tuned.
Linda