As you may have heard, Marsala is
Pantone
's pick for the 2015 Color Of The Year. In a
previous post
, Lesley highlighted some Marsala colored art beads that you may want to incorporate in your designs.
I have heard people complain that they can't quite put a finger on just what this color is. Its kind of a dusty burgundy hue that lies somewhere between rose and brick. When I first saw this shade, I could only think to pair it with mauve, but in the meantime, I've realized that it is a lot more versatile than I thought it would be.
If you are a person who struggles with combining colors, you might want to start by looking at color combos in your environment. Fabrics, fashion, house decor magazines, paintings and floral arrangements are all good starting points.
In that vein, I have assembled some collages for you. Each one starts with a large picture of an object you might see in your daily life. I've pulled a color palette from that object and then selected beads in those colors. I hope this inspires you and increases your color confidence.
Pillows are a surprisingly good place to start. They often combine several colors on a small enough scale that you can visualize it as jewelry. I once made a yellow and gray bracelet inspired by a pillow I saw in a House Beautiful magazine. Our living room colors were all inspired by one handwoven pillow we have. So pick up a magazine or stroll through a furnishing shop. Look for a pillow that includes Marsala. Pay attention to the other colors on the pillow or the colors of the furniture on which it was placed.
Clockwise: Pillow from
Crate and Barrel
,
Starry Road Studio
,
Curious Bead Shop
,
Fiber Beads
,
Graceful Willow Beads
,
Color Square
.
I saw this wreath on Pinterest and fell in love with it! I love the angled, sweeping lines and the colors are just so yummy! I was immediately inspired to create jewelry in these colors.
Clockwise: Wreath from
Field and Florist
,
Captured Memories
,
Color Square
,
Wooly Wire Etc.
,
BeadBistroCrafts
,
Color Square
.
Paintings are a wonderful source of inspiration. You don't necessarily even have to like the artwork. Just focus on the color combinations. I found this painting by Monet while doing a Pinterest search for "Marsala art work".
Clockwise: Painting by Monet,
Graceful Willow Beads
,
Jetta Bug Jewelry
,
Graceful Willow Beads
,
Color Square
,
BobbiThisnThat
.
Next time you are wandering through the mall or paging through a women's magazine, keep your eyes peeled for Marsala colored clothing and pay attention to the colors it is paired with. I love this outfit! I had fun finding beadie treasures in these colors!
Clockwise: Outfit by
LoLoBu
,
Starry Road Studio
,
Linda Landig Jewelry
,
OrlyFuchsGalchen
,
Spawn Of Flame
,
Wooly Wire Etc.
I found this dress by doing a Pinterest search for "Marsala fashions". I think this is my favorite color palette that I found. The coral accents just make the whole thing sing for me! Love, love, love this!
Clockwise: Dress found on
Pop Sugar
,
Classic Bead
,
Curious Bead Shop
,
LanaBeads2
,
Beads By Earth Tones
,
Wooly Wire Etc
.
I also found a couple of earrings in Lesley's shop,
Thea Jewellery
, that fit the bill, so I thought I'd share them as well.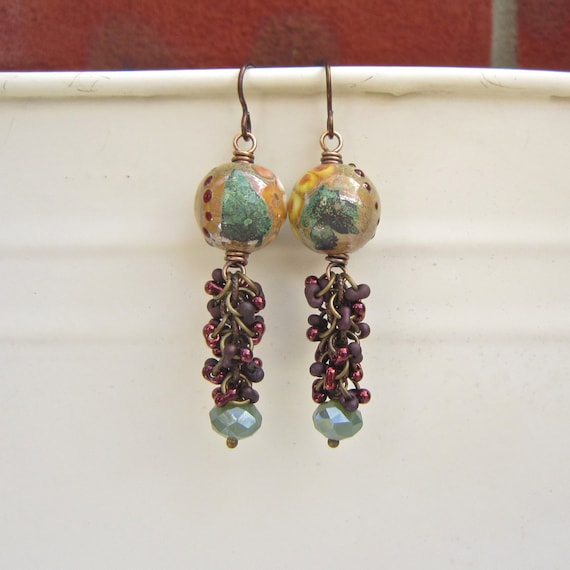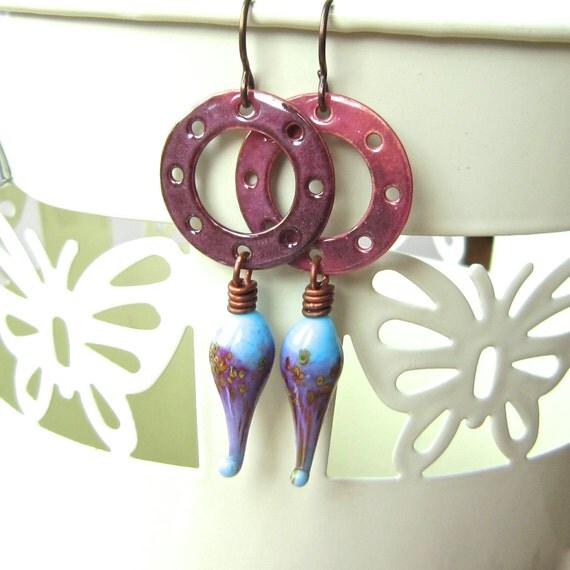 I'm not suggesting that you design jewelry solely with the goal of being on trend, but if you find these color palettes inspiring, then by all means go for it! And keep your eyes open to all the fabulous color that surrounds you everyday. Inspiration is everywhere!
Linda