In addition to being mentored by my ceramic artist-friend
Marion Pollmann
, I've been taking a clay class this past month. You might wonder why I'm taking a class, when I have been fortunate enough to be mentored by a local artist. Good question.
Part of the reason is that my curiosity was piqued to learn more. I'm not planning on becoming a potter, but I wanted to see how pots are thrown on the wheel. I wanted to try a little slab building and I wanted to spend more time with clay, without feeling like I was taking Marion away from her own work. I also
really
wanted to explore a wider variety of glazes, under the guidance of an instructor.
Marion uses
Mayco Stroke and Coat
glazes, which are perfect for her design style. They are quite flexible, regarding what temperatures they can be fired at. They stay right where you put them and don't run, which is perfect for the very detailed work that Marion does.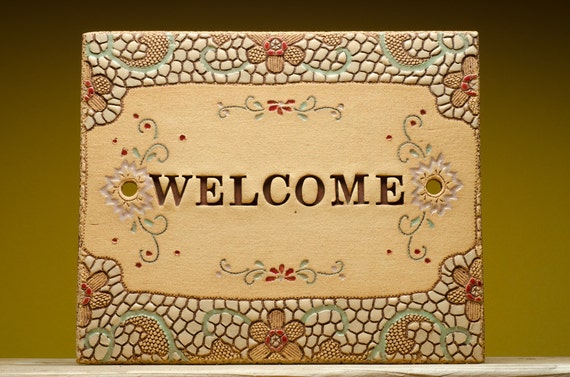 I
I like this glaze, too, for some applications, such as my large flower pendants.
But I am particularly fascinated by glazes which pool in the recessed areas and "break" into other colors on the raised surfaces. I needed a chance to fool around with those glazes and to be able to ask questions about them.
I was super confused about which glazes could be used at which temperatures and with which clay bodies. I couldn't figure what the difference was between an under glaze and an over glaze, except when you applied them. I pestered all my AJE ceramic peeps with what seemed like billions of glaze questions (thank you guys!). I knew what I wanted, but didn't know how to get there.
So for the past month I have been traveling to Tacoma, WA every week to take a ceramic class at
Throwing Mud Gallery
. I have learned how to make press mold dishes, slumped trays & draped bowls. I have watched people work on the potters wheels and have played with glazes. I've also made pendants that I will be bringing with me to Bead Fest Philadelphia in a few weeks!
On Tuesday, I brought home my first kiln goodies. Karen Totten asked me if I felt satisfied with the outcome of my bowls and pendants. I wasn't sure if the word "satisfied" described my feelings, but maybe it does. I knew that some of my pieces had too much glaze on them. We did dip glazing in class, and I left a number of things in the glaze a few seconds longer than I should have. But it is part of a learning process and I was surprised and delighted to discover that nothing emerged from the kiln that was so ugly that it needed to be tossed out! In fact, nothing was ugly at all!
It is more of a process of refining my technique to bring it more closely into alignment with the vision I have in my mind. The bowl on the upper left is exactly what I was striving for! There is a beautiful molted blue on the flat surfaces, which breaks into a warm brown color on the raised surfaces. I was ecstatic when I saw how it turned out! The brown/tan bowl on the other hand, would have benefited from less glaze. Parts of it have the look I was going for, but it is not consistent. But even with that bowl I was excited, because I can see that I am moving in the direction of my dreams. I can see a glimmer of my goal, even in the less than perfect pieces. And yes, I'm satisfied with that, at this point in the journey.
I used the same types of glazes on my pendants and charms, too. It looks and works a bit differently on such a small scale.
The brown colored pendants have the same glaze as my successful blue bowl, even though these are predominately brown. The instructor wanted me to dip glaze my pendants. However, I could see that, that method was coating them too thickly. So I brush glazed some of them and dipped others. You can pretty much tell which method I was using on which pieces just by looking at the sampling below.
Once again this was an occasion for learning. I had no idea that there was a difference between dipping glazes and brushing glazes, but my AJE team members clarified that for me. The glaze can be the exact same color, but it is formulated differently for a dip glaze than for a brush glaze. So no wonder my instructor wanted me to dip everything! That is the kind of glaze he has in his studio. But for small stuff, like jewelry, I need to be brushing. So I bought some brushing glazes of my own, that still break on the raised surfaces. So, brushing this type of glaze will be the next experiment. Stay tuned...
Till then, I'll leave you with a picture of some of the ceramic components that I have so far. I won't be listing any new ceramics in
my Etsy shop
until after Bead Fest, but I will have a small selection of items for sale at Jennifer Cameron's table #473A, in Artisan Alley.